Following the EUREKA principles, the CATRENE Programme is industry-initiated and guided. The executive bodies of the CATRENE Organisation are:
the CATRENE Board,
the CATRENE Support Group and
two CATRENE Steering Groups (for Technologies and Applications).
The composition of these bodies reflects the contributions of the industry sectors as well as of the countries participating in CATRENE.
CATRENE Board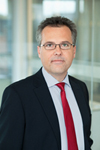 Chairman of the Board
  Kurt Sievers
  (NXP Semiconductors)
Members of the Board:
- Airbus Group
- Alcatel-Lucent
- ASM International
- ASML
- Bull
- Carl Zeiss
- Infineon Technologies
- NXP Semiconductors
- Robert Bosch
- STMicroelectronics
Representatives of the Scientific Committee:
(non-voting members)
- IMEC
- Fraunhofer
- CEA-LETI
The CATRENE Board is the top executive body of the CATRENE Organisation. It is responsible for the strategy and coherence of the whole Programme.
It establishes general rules for the Programme management, and it interfaces with Public Authorities for Programme strategy and co-funding.
CATRENE Support Group
The CATRENE Board is assisted by the CATRENE Support Group. The CATRENE Support Group decides on project proposals for issuing CATRENE labels. It deals with all operational issues regarding the management of the total Programme in view of the strategic objectives and available resources of CATRENE.
The CATRENE Steering Groups
The two CATRENE Steering Groups "Applications" and "Technologies", give recommendations in strategic orientation and are responsible for the initiation of projects, their evaluation and for their monitoring.
The Steering Groups recommend projects for selection/labelling and for priority setting/ranking by the CATRENE Support Group.
CATRENE Office
The CATRENE Office assists the CATRENE Board in the coordination, administration and organisation of all CATRENE affairs. It is a central contact point and a meeting place for the whole CATRENE organisation. It handles the Programme's interface with the outside world.
Public Authorities
The Public Authorities supporting CATRENE take care of harmonisation and synchronisation of their measures related to the CATRENE Programme in order to secure continuity and optimal Programme execution. They directly interface with the CATRENE organisation on 2 levels - the Board and the Support Group.