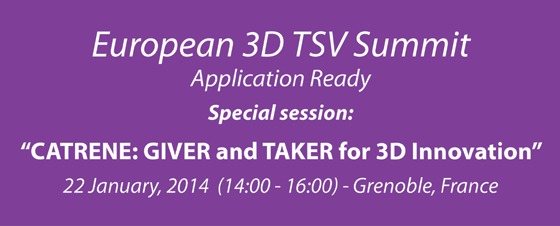 Results of the CATRENE special session
2014 was the third edition of the session organized by CATRENE. The first two editions, took place during the European Nanoelectronics Forum 2011 and 2012.
Around 50 delegates participated in the special session. After the session, an informative discussion about the AENEAS & CATRENE Common Brokerage Event took place with the expectation of two or three project proposals from companies present that day in Grenoble.
 Part 1: The CATRENE Solution for 3D (1 hr)
Visible through its project portfolio and in its strategy, the CATRENE programme puts a lot of importance on 3D Innovation.

Opening and Introduction: Denis Rousset, CATRENE Programme Director Technologies
Learn about how CATRENE works, opportunities that exist for you and your company as well as first-hand accounts on the benefits of collaborative R&D.
First-hand experience in CATRENE with 3D projects:

Alexis Farcy, STMicroelectronics


Severine Cheramy, CEA-LETI


Nicolas Launay, SPTS France
Part 2: Constructing the future of R&D on 3D together (1 hr)
CATRENE is preparing for the future and 3D is not being left behind. With the contribution of Europe's leading experts in the domain, CATRENE aims to facilitate access to collaborative projects that target state of the art 3D Innovation.  

New possibilities offered by 3D - Ahmed Jerraya, CEA-LETI


Roadmapping the R&D&I for 3D - Alan Mathewson, James Rohan and Cian O'Mathuna, Tyndall


3D Packaging and reliability - Klauss Pressel, Infineon
Announcing the CALL 7 and Brokerage event 2014 in Brussels, Denis Rousset

For more information about the European 3D TSV Summit visit:
http://www.semi.org/eu/node/8566

For more information about the CATRENE special session, contact Denis Rousset or
Christine Plissonneau